Academic Registrar's Office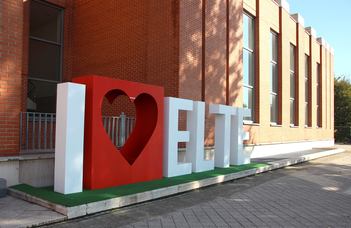 Based on the order issued by ELTE Epidemiological Operative Coordinating Body on March 11 2020, personal customer service is not available for students. The administrative issues of students, prospective students and alumni can only be arranged by electronic means. You may
contact the Registrar's Office during office hours via email or the telephone number
. Students (active, passive or those who have completed their studies) may fill in request forms concerning any issues (except for those problems which need standardised request forms) and submit them through the Neptun system (Neptun/Administration/Requests – "TáTK request 2020"). Certificates will be sent out in a scanned form (and the original will be posted if necessary).
Contact
Address: 1/A Pázmány Péter sétány, Budapest, H—1117
Phone: +36-1-372-2921
E-mail: th@tatk.elte.hu
Office hours:
Monday: 10:00–13:00
Tuesday: 13:00–16:00
Thursday: 9:00–13:00
Friday: 9:00–12:00
Staff
HORTOBÁGYI Katalin, Academic Registrar
office: 2,53A
phone: +36-1-372-2500/6836

e-mail: hortobagyi.katalin@tatk.elte.hu

applied economics (bachelor's, English and Hungarian)
sociology (bachelor's English and Hungarian from 2019)
health policy planning and financing MSc (master's, English and Hungarian)
ethnic and minority policy (master's, English and Hungarian)
cultural anthropology (master's, English)

SZABÓ Laura, Deputy Head of the Office, Academic Registrar
office: 2.53A

phone: +36-1-372-2500/6730
e-mail: laura.szabo@tatk.elte.hu

international studies (bachelor's and master's English)

VÉGSŐ Gábor, Chief Counsellor Academic Registrar
office: 2.53B
phone: +36-1-372-2500/6437
e-mail: vegso.gabor@tatk.elte.hu
BERTHÁNÉ BOROS Tünde, Academic Registrar
office: 2.104
phone: +36-1-372-2500/6694
e-mail: berthane.tunde@tatk.elte.hu
VÉKONY Edit, Head of the Office
office: 2.103
phone: +36-1-372-2921
+36-1-372-2500/6837
e-mail: vekony.edit@tatk.elte.hu
NEPTUN
Neptun is used for academic administration (e.g.: registering for courses and exams), finances and communication. The login name and the password, which can be changed later, are sent to students before the start of the semester by e-mail. You can find a step-by-step guide below:
ELTE Neptun Step-By-Step Guide

CooSpace
CooSpace is a system used to expedite communication between students and lecturers and is used to share electronic teaching materials and to complete tests. You can log into the system with your Neptun code and password.
When you open the page to log in, please choose the "Central login" surface. You will need your Neptun code and your Neptun password.
Documents & Regulations
The unique interim Regulations of Training and Examination (TVSZ) can be downloadad here.
Amendments to Eötvös Loránd University's temporary special academic and exam regulations pertaining to the hybrid education model enacted in view of the state of epidemiological preparedness covering regulations on student assessment
For the academic and other university-level regulations, please click here.
The faculty-level documents and regulations you can find below: