ELTE's Cultural Anthropology Student at UCLA Conference
Interview with Mehdi Jabbari Moqaddam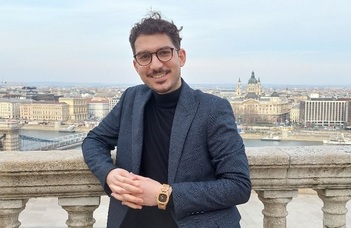 Mehdi Jabbari Moqaddam, Cultural Anthropology MA student at ELTE Faculty of Social Sciences, just participated remotely from Budapest in "The Iranian Diaspora in Global Perspective" conference organized by UCLA Center for Near Eastern Studies in Los Angeles, California. You can read a short interview with Mehdi about his experience of the conference and his research about Iranian immigration.
UCLA is in the top 25 higher education institutions worldwide according to the most important international rankings. What was it like to participate in a conference held by such a prestigious university?
Mehdi: Participating in a conference organized by a prestigious university like UCLA was a highly rewarding experience for me as an early-stage academic person. Presenting a paper at such a conference was exciting. It gave me the opportunity to share my research with a knowledgeable audience, receive constructive feedback, and gain insights from other scholars in their field. Overall, participating in a conference held by a prestigious university like UCLA was a highly enriching and fulfilling experience for me, it was an opportunity to engage with my peers, exchange ideas, and showcase my research. I also received a grant of 1000$ US dollars for attending the conference which helped my expenses during the research.
Tell us a bit more about the organizing institution, UCLA Center for Near Eastern Studies and the concept behind the The Iranian Diaspora in Global Perspective conference.
Mehdi: The UCLA Center for Near Eastern Studies established in 1957 and it trains undergraduate, graduate, and professional specialists on the Middle East, North Africa and the Islamic world. They promote Middle East conferences, graduate studies, and research projects by regional and international scholars across all of UCLA's academic divisions. The Center also serves as the focal point for public discussion and dissemination of knowledge about the countries and cultures of the Middle East.
The conference brought together senior scholars, mid-career scholars, and emerging researchers in any discipline who are contributing to and developing this emerging and transnational field. Researchers of Iranian diaspora in global context, presented their paper around these topics,
Histories of Iranian migration and diaspora formation
Sociological and cultural dimensions of Iranian diaspora communities
Comparative studies, whether comparing across Iranian diaspora communities or between Iranian and other immigrant groups in differing locations
Research on Iranian communities in Africa, Asia, Latin America, and Oceania;
Studies that cast light on the heterogeneity of Iranian diaspora communities and their migration experiences
Can you briefly summarize the research paper you applied with to the conference?
Mehdi: Since the 1979 revolution in Iran, the United States and later Canada stands out as the ideal destination for Iranian immigrants and continues to attract a major share of Iranians who immigrate to the West. In my article, I argued that this trend that started in the post-revolutionary times of Iran still exists and immigration consultancy agencies in Hungary which are managed by Iranians adapt their business plans according to this trend. These agencies rely heavily on digital marketing and social media advertising services. This paper also discusses the questions of why and how Hungary had the potential to be a good and accessible bridge for new waves of Iranian immigrants. Additionally, the potential implications of the findings of this research suggest that due to this phenomenon of the Hungarian Gateway in which residency is temporary, there isn't an opportunity for Iranian immigrants to make up a coherent diasporic community.
What feedback did you receive from fellow researchers about the paper?
Mehdi: Presenting a paper at a conference organized by UCLA have a significant impact on one's academic career. Such conferences can provide valuable exposure and help me to establish an academic reputation in the field. I can tell you that receiving feedback from fellow researchers was an important aspect of presenting a paper at a conference. It helped me to refine my research, identify potential weaknesses or gaps in my arguments I used in my research, and improve the overall quality of my work. Feedbacks also provided me valuable insights and perspectives from scholars who are knowledgeable in the field, which can help my academic career to develop further and generate new research and ideas.
Was there any opportunity for you to network and get to know fellow researchers?
Mehdi: Yes, there was, this conference attracted scholars from diverse academic backgrounds, and provided a platform for engaging in meaningful academic discussions, networking, and exchanging ideas with other researchers. This conference built a stronger academic community, and highlighted the importance of cross-disciplinary research and collaboration.
When do you finish your studies here at ELTE? Is your diploma topic similar to that of your presentation at UCLA?
Mehdi: I will finish my studies at ELTE in June 2023 and Yes! both of them revolves around the consumer ethnography and economic anthropology topics but in a different scale and scope.
What are your future plans after you graduate?
Mehdi: Well, I feel like I enjoy doing research in social sciences fields especially anthropology therefore even after graduation, I will continue my research and attend many other conferences, I will continue my PhD and possibly I continue further to become a post-doctoral researcher in the field.