Creative Art Competition to Celebrate 20 Years Jubilee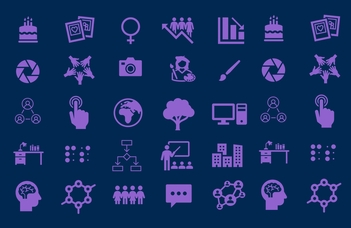 20 years ago, ELTE TáTK became an independent faculty. To celebrate the jubilee, we are announcing an art competition, for which we are expecting creative works showcasing the creator's connection to / vision about ELTE Faculty of Social Sciences.
THE TOPIC: YOUR TáTK!
We are looking for works that show how the creator sees the faculty, what their own experiences and TáTK-related identity are like, and what values ​​they think define the faculty. In other words, creative works sent to the competition should simultaneously reflect on the self-definition of the Faculty of Social Sciences (e.g.: values of the faculty, such as: cooperation; social responsibility, creative and critical thinking; inclusivity and diversity) and on the creator's own experiences. The approach to the topic can be abstract, humorous, or experimental—there are no restrictions.
SUBMISSION
Art works/genres to be submitted: photo, montage, collage, drawing, painting, image created with any digital methods.
Applicants: all students/alumni who have ever or are currently studying at ELTE TáTK, as well as former and current teachers/employees of TáTK. An applicant can enter the competition with several works.
Entries created using digital techniques should be sent in PNG or JPG format to the following e-mail address: tatk20palyazat@tatk.elte.hu by midnight on July 15, 2023, accompanied by a letter of consent, in which the creator agrees that of his/her work be displayed at the ELTE TáTK Jubilee Exhibition and on the faculty's other communication channels. Please do not exceed 10 MB in file size.
Entries that can only be submitted in person are accepted until 4 p.m. on July 13, 2023 in the Communications Office (238).
PRIZES
1st place: tablet + double entry to the ELTE Botanical Garden
2nd place: webcam + double entry to the ELTE Botanical Garden
3rd place: flash drive + double entry to the ELTE Botanical Garden