Start Your Student Journey @ ELTE, Faculty of Social Sciences!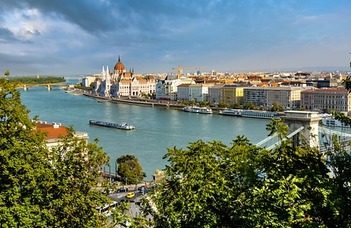 Welcome to ELTE University, Budapest, Hungary! ELTE Faculty of Social Sciences is the largest higher education school in Hungary specialized in social sciences.
We offer English-language study programs available on Bachelor's, Master's, and PhD levels. If you are interested in studying social sciences and embarking on an inspiring student journey in Hungary's leading university in one of Europe's trendiest capitals, scroll through our training portfolio and apply to the training program you find the most attractive.
The deadline for the application is April 30, 2022.
WHY ELTE, FACULTY OF SOCIAL SCIENCES?
ELTE—founded in 1635—is the oldest, largest, and leading university in Hungary with a continuously growing international student community. Our faculty:
offers a wide range of programs which cover the entire spectrum of the social sciences;
offers high-quality academic and practical training;
is deeply embedded in international research and academic networks;
places emphasis on both theoretical and empirical approaches;
gives students a head start in the Hungarian and international job markets and prepares them for a career in academia if they wish to pursue this route;
besides having strict academic requirements, offers an open and welcoming atmosphere with a real sense of community.
OUR PROGRAMS
By clicking on the program names, you can learn more about the curriculum, application process, and requirements of the given program. If you have further questions related to any of our training programs, the university life, or the student community, reach out to us via international@tatk.elte.hu.
SCIENCE LEADS US
ELTE Faculty of Social Sciences is the country's largest social science education center with internationally renowned and widely published faculty members. In our university, we educate our students according to the international standards of excellence in higher education. Our degrees are recognized internationally.
Our lecturers incorporate the latest research results in the humanities and natural sciences:
to back up theory with practical approaches,
to go beyond skills development, and
to inspire students to think critically, to seek constructive solutions, and to have an open worldview.
WHY BUDAPEST, HUNGARY?
Our university is located in the heart of Europe, in Budapest, Hungary. Budapest is a safe and diverse city with a huge international/expat community, vibrant cultural and foodie scenes, and easy and cheap air- and rail-links to major EU cities. Wherever you come from, whatever your hobbies/interests are, you can be sure to find your crew to hang out with.
COMMUNITY
Inclusivity and diversity are the core values of our faculty. Our extracurricular programs (festivals, film clubs, discussions, hikes, and debates) are the perfect platform for our students to get to know each other and become a real community.
We encourage our international students to organize and participate in events where they can bring their cultural heritage closer to their peers (Heritage Night, Culture Club).
Students participating in our English language programs enjoy the benefits of being a member of the ELTE community. These include sporting opportunities at our sports facilities, the services of the country's largest university library, housing, and numerous other benefits.
REACH OUT TO US!
If you are interested in learning more about our university, study programs, and the application procedure; or you have some questions you'd like to ask us, reach out to us via international@tatk.elte.hu.